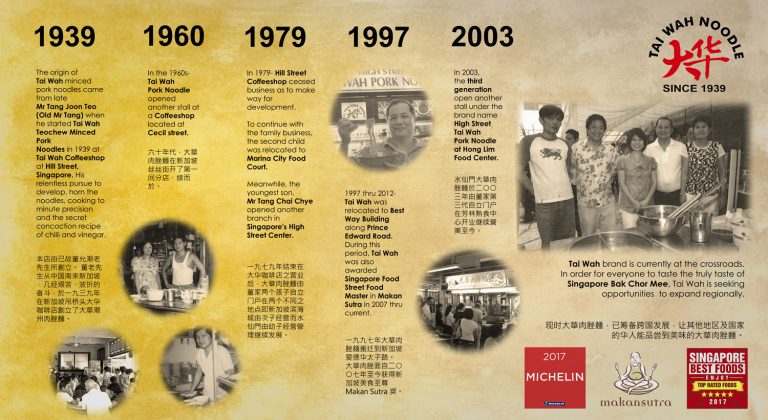 Tai Wah minced pork noodles came from humble beginnings with a tale of survival of a southern Chinese young man driven by poverty, wars, and hunger to migrate to Nanyang ( South East Asia).
---
The late Mr Tang Joon Teo (Old Mr Tang) came to Malaya and then finally settled down in the Straits Settlement of Singapore.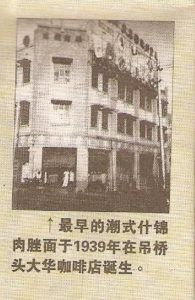 In Singapore, to satisfy his desire for the taste of his hometown and to bring the familiar taste of home to his fellow Chinese, and to make a decent living for himself, he started Tai Wah Teochew Minced Pork Noodles in 1939 at Taiwah Coffee Shop at Hill Street, Singapore. His relentless pursue to develop, horn the noodles, cooking to minute precision and the secret concoction recipe of chilli and vinegar.
Unfortunate events broke out in 1942, World War II, when the Japanese army invaded Singapore. The situation became very turbulent and food resources became scarce. But with sheer ingenuity and networking under difficult circumstances, the noodle business still carried on with the help of his young children as he wanted to keep them close under such turbulent times.
In the 1960s- Taiwah Pork Noodle opened another stall at a Coffeeshop located at Cecil street.
In 1979- Hill Street coffee shop ceased business as to make way for development.
To continue with the family business, the second child was relocated to Marina City Food court.
Meanwhile, the youngest son, Mr Tang Chai Chye opened another branch in Singapore's High Street Center.
In October 1997,this same outlet by Mr Tang Chai Chye was relocated to Prince Edward Road.In 2003, another stall was set up in the Hong Lim Food Centre located in the Central Business District to cater the demand for office clientele.
Today, with the advent of internet and ease of cross border, Taiwah Minced Pork Noodles has seen increased demand in regional countries. The eldest son of Mr Tang Chye Chai is now at the opportune time to develop the brand and prepare for cross-border expansion to bring its distinctive noodles regionally. An operation system has been developed to ensure Tai Wah's consistency in standards and quality is being maintained.
The brand is currently at the crossroads, in order for everyone to taste the truly Singapore's Bak Chor Mee, Tai Wah is seeking opportunities to expand regionally.
Main Accolades of the brand includes*:
1985 Singapore Television Program : where "Sin Chow flavor" food of Tai Wah is introduced and recommended.
The brand was also awarded Singapore Food Street Food Master in Makansutra.
The Tai Wah brand participated with great demand in Singapore Day Sydney 2013 & Melbourne in 2017
2016 – Tai wah obtained a mention for recommended food in the Singapore Michelin Guide.